An exhibition of South African fashion designer Thebe Magugu's collections captured on scarecrows in fields by South African photograph Aart Verrips.
This exhibition raises funds for Designing Hope's annual program: " Uniforms and Differences", consisting in Distributing school uniforms for needy children, especially Aids orphan, in southern Africa.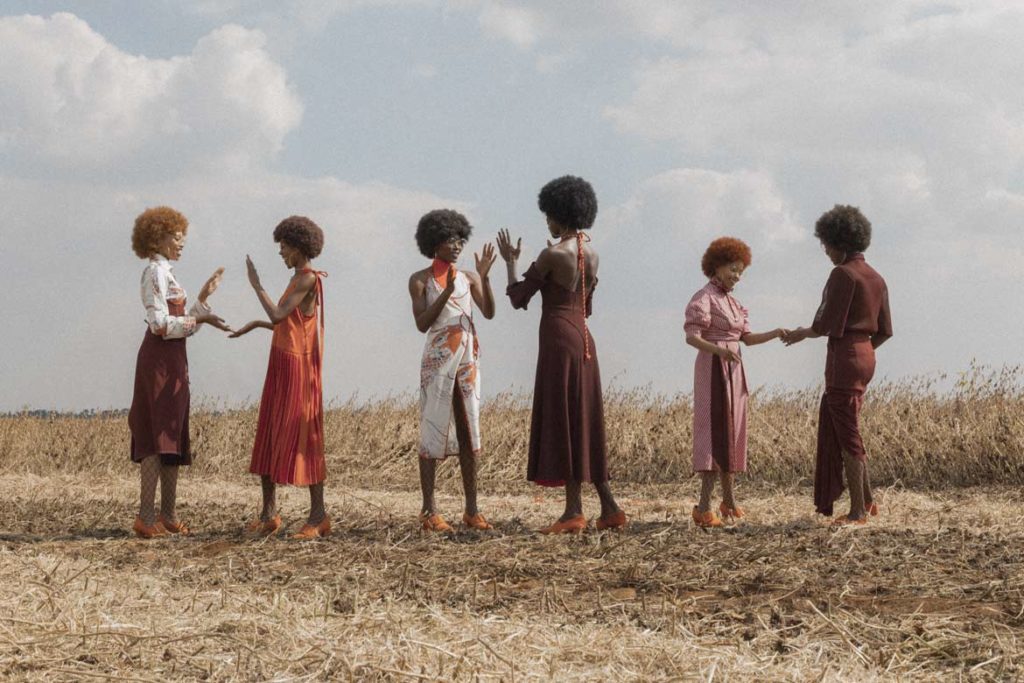 THEBE MAGUGU, originally from the small town of Kimberley, moved to Johannesburg to study fashion design. 2 years after winning best graduate collection, he launched his namesake label, THEBE MAGUGU – a South African fashion brand primarily operating within the field of women's ready to wear. Speaking about the brand, the designer says, "together with our pillar values of quality, novelty and culture, we constantly seek new ways of presenting women with clothing that both complies with and enhances the everyday. Sleek, forward-looking design intersects with motifs from our continent's storied past, providing smart, multifaceted clothes as valuable as their woman". Thebe Magugu won the The young Fashion Designers Prize of LVMH in 2019.
AART VERRIPS is a Johannesburg-based photographer, who has captured the attention of the South African fashion scene. Verrips continues to gain recognition for a distinctive style that merges the daring, provocative and risqué, while maintaining aesthetic, expansive creativity and attention to detail. Verrips says: "I love fashion photography because you can create a different world in one single frame, you can make the impossible seem possible'. Verrips' editorial work has been published in GQ, Elle, Glamour, Marie Claire, Vogue Italia. Hazard Gallery offered him his first solo exhibition in Johannesburg in 2017.

FIGURES OF FORTITUDE
With this series, Thebe Magugu explored the condition of the female force in South Africa.
"We are constantly surrounded by women, and on a personal level, the trait I have always found most admirable is their powerful ability to possess both Strength and Vulnerability; traits I feel blessed to have been exposed to with the matriarchal figures who raised me and traits which are monumental in anyone hoping contribute positively to the bigger human condition.
This series were shot on sculpted scarecrows, to form a personal short story: an ode to women. In some of the images, you will see a raging fire taking place; a crop burning we found quite poetic. Some dresses are pretty, some are challenging. Some coats are functional, some are torn in half. I also wanted to create a dialogue about how beauty operates on a very subjective spectrum, which doesn't have a wrong or right side."
AN EXHIBITION FUNDRAISING DESIGNING HOPE'S PROJECT:
UNIFORMS & DIFFERENCES
DESIGINIG HOPE started the project Uniforms & Differences in 2011, within 2 support groups of HIV women in South Africa and Swaziland, trained on sewing techniques and equipped with industrial sewing machines. This project benefits both the women sewing school uniforms with income generating activities, and disadvantaged children, especially aids orphans, who receive the uniforms.

Designing Hope has a 16 years field experience in these 2 countries. Southern Africa is indeed one of the HIV & AIDS most affected areas in the world. The situation is improving, especially through better distribution of treatment, but many people died in the last 2 decades, and AIDS orphans are very numerous. This project is dedicated to these vulnerable children.
They are supported by their extended families that often can not afford to properly fund their education. In fact, the school system in Southern Africa is very expensive for families, who must take charge of their education, books and school uniform, which is mandatory.Therefore these children often wear second hand uniforms that they get from an older brother, sister or cousin, and that is torn, patched or not even repairable at all. Uniform, that is supposed to eliminate social differences among children, has an opposite effect. These children are rejected by others because of their appearance, at an age when children are very tough toward each others.
A MEANINGFUL EXHIBITION
This series of photographs that will be exhibited at the occasion of World Aids Day and until the end of December, are illustrating the NGO's actions in many ways…
between sewing and sawing :
The set up in fields illustrate the sustainable agriculture projects developed by the NGO for HIV patients in Southern Africa.
The poetic and elegant creations of Thebe Magugu photographed by Aart Verrips, are contributing to fund a sewing project benefiting African women.
These women are extremely proud of this prestigious support.
Figures of Fortitude, the name of this series of pictures on scarecrows, illustrates the strength and fragility of Women, such an incredible parallel with the beneficient of this project, HIV affected women, who successfully fought against stigma, overcome critical financial situations to often raise their children alone .
Finally, Thebe Magugu is joining the long list of international fashion designers who have been supporting Designing Hope since 2003.

The designer was very sensitive to this issue, as he is supporting personally children in his hometown of Kimberley. 1/4 of the funds raised by Designing Hope will benefit children from his community.

Click on the icon bellow to access the fundraising online form: